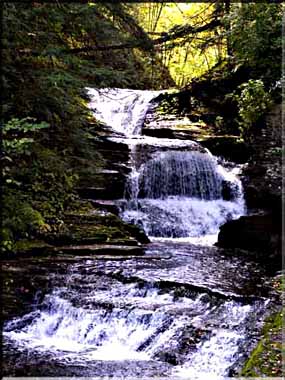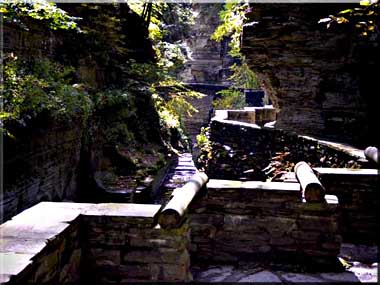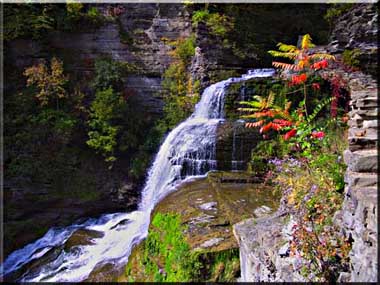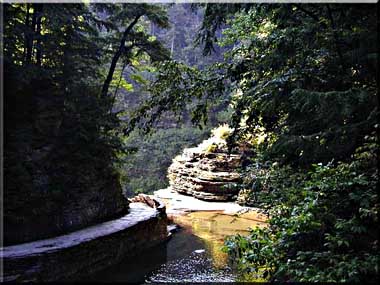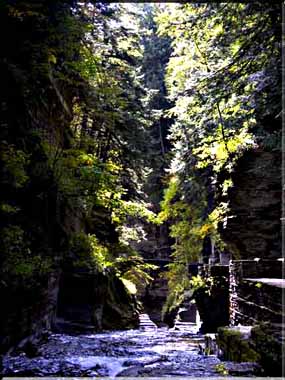 Robert H. Treman State Park (also called Upper
Enfield Glen) in Ithaca, New York, provides
countless tempting views for photographs. The
key is to be there when the light conditions are
best - which can be tricky. The steep walls of
the gorge give Lucifer Falls its impressive
cascade, but often prevent taking an equally
impressive photograph.

Move the cursor over each thumbnail to
increase its size. Click on the thumbnail to
see an even larger version.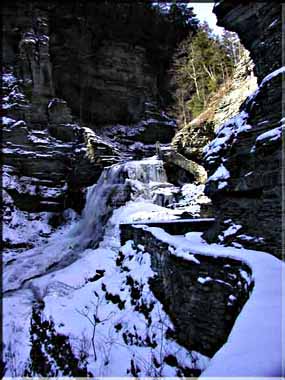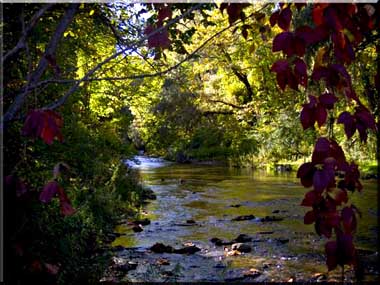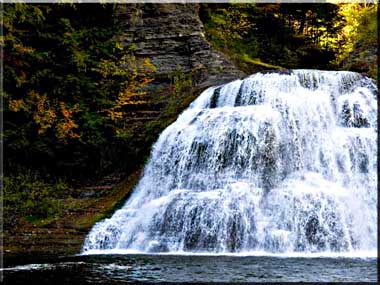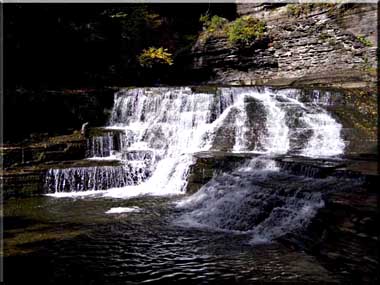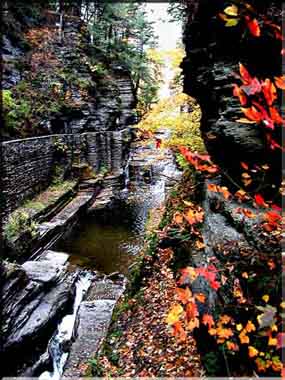 Upper Enfield Glenn - Treman Park
The top row of photographs are of the upper Enfield Glen part of
Robert H. Treman State Park. Starting at the parking lot by the
"Old Mill" a visitor can walk behind the mill to see a delightfull
waterfall cascade. This is close to the headwaters of the stream
that leads to Lucifer Falls and eventually to the lower part of
Robert Treman Park.
Heading down toward Lucifer Falls, I am always tempted to take
too many photographs because of the numerous lovely landscape
views that appear along the way. Obviously one of my favorite
places to take photographs is the gorge at the top of the trail
leading to Lucifer Falls. I have three different ones in this gallery,
two with summer light and foliage, the other looking back in an
autumn spectrum.

Lucifer Falls - Robert H. Treman Park
Lucifer Falls is the major waterfall in the park, altough there are
many other waterfalls of significant beauty as you walk down the
path from the upper entrance to Enfield Glen. Above, you can see
Lucifer Falls in the autumn, followed by a view of that waterfall in
winter ice. In the lower part of Treman Park you will find a popular
swimming hole where you can actually swim right up to the Lower
Enfield Glen waterfall. The stream wanders down past the Treman
Park camping area and continues down to some prime fly fishing
territory.

Eary Spring View of Lucifer falls
The gorge trail is still closed because the late snow
postponed the annual scaling of the cliffs by the
rangers at Robert H. Treman State Park. New York
State mandates that each year the rangers rappel
down the overhanging cliffs and knock off any loose
rock before opening the trails below. I was told that
the gorge trail at Buttermilk Falls is still closed, also.
The rim trail at Lucifer Falls is partially open.